Prioritise which clients to talk to using your Advisory Dashboard
Updated: 27 October 2022
---
Your Advisory Dashboard shows you at a glance how ALL of your connected clients are performing on key metrics. You can quickly identify who needs help without having to dive into each of your client's details individually. You can also quickly spot clients who are growing and could benefit from financial advice to scale up their business. Use this to help you prioritise which clients to talk to at different points of the accounting calendar, and to identify opportunities to up-sell to your clients.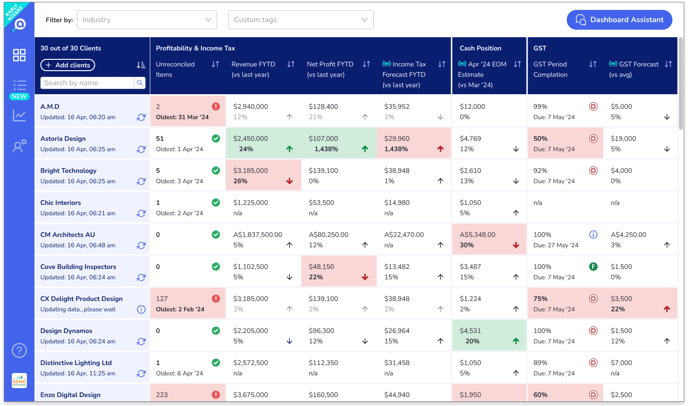 The key metrics are grouped by categories so that related KPIs are shown together for ease of analysis.
Significant trends are called out in red (negative trends) and green (positive trends). Use this to help you manage by exception and avoid information overload.
To further help you prioritise, you can sort your clients' data by any of the columns – you can order your clients alphabetically, by specific data health or by performance metrics. Simply click on next to the column label. Sort options vary by column. Most will allow you to sort by amount and by trend direction. You can also search for a client by name.

You can also filter your client list by industries. Select one or more industries to show only clients in those industries. This enables you to compare how clients in the same industry are doing and identify areas of operations where your clients may want or need to improve on. The industry classifications are taken from your clients' "line of business" data defined in their Xero Organisation Settings.

Each of the data cells link to detailed insights, so it's easy to further investigate a significant trend.

If you need help understanding a metric, click on the column label to get more details about its usage and benefits, sorting options, data source, calculation and alerts logic.