Monitor a client's data health and/or financial performance with the Client Insights pages
Updated: 23 December 2022
---
The Client Insights pages are where you'll find more details about your individual client's performance, as well as the state of their recordkeeping in Xero (data health). Rather than just raw figures that you can find in Xero, in Aider, your clients' data is visualised with graphs that make trends easier to spot and understand – it's even easier for your clients to understand. Some insights incorporate additional analysis of historical data using artificial intelligence and data modelling – this acts as an early warning system and provides you with forecasts that take into account a variety of factors without you needing to manually input a lot of information first.
Use these pages to investigate significant trends shown on your Advisory Dashboard by clicking on the data cell in the dashboard.

Or if you're preparing for a client conversation, simply go to the Client Insights section and find the client using the 'Clients' navigation panel on the right. You can search for a client by name. Clients you recently looked at will also be listed for quick access. If there are any data health or performance alerts, or if you have received a chat message from the client, the total number of alerts + message notifications will be shown next to the client name.
Client insights
Your clients' details are organised in category tabs of related insights. This means, if there are significant negative trends or issues with insights in a category, a notification count will be shown next to the tab label.
For most insights, there will be:


A summary of the headline figures and trends related to that insight. If there are significant trends in these headline figures, they will be highlighted in red (negative trends) or green (positive trends).
An interactive graph/chart to help you spot trends more easily (rather than by comparing raw figures). Hover over elements in the graph to see detailed figures. Click on the keys to hide and show the corresponding element in the graph – the graph will resize to show the remaining elements more clearly.
Summary of the trends shown in the graph which offer more comprehensive details than the headline figures.

Some insights have additional details such as:

Reconciliation status and alert affecting the insight's reliability. This warns you if the insight's reliability may be affected by unreconciled transactions. Use the handy link to Xero Bank Accounts to fix the data problem and check back the next day for more reliable insights.
Client settings used for the insight calculation. This helps you understand how the insight is calculated. You will then be able to make corrections if the wrong settings were used for the calculation.

If you need help understanding an insight, click on next to the 'Trends' heading to get more details about the insight's usage and benefits, data source, calculation and alerts logic. You can also click on the shortcut "How is this calculated >" to jump straight into the data source and calculation sections of the Insight Help Panel.
If you need more details about the underlying data, many insights have handy links to the relevant sections in Xero, saving you time and hassle.
If you would like to share an insight with your client, simply click the 'Share Insight' button. You'll be able to share via email or via the chat feature of the Client Mobile App (optional add-on) if you have invited your client to use the app. You can even send multiple insights in one go.

Data Compliance Checklists
To ensure the performance insights are reliable, use our Data Compliance Checklists to help you get your clients' record-keeping to a complete and accurate state, starting with a checklist for GST reporting.
Use this to quickly spot incomplete tasks and record-keeping anomalies that require attention. This saves you time from having to dig around Xero files for hours, trying to identify issues across your entire client base. More checklist types and data check options will be added in the future.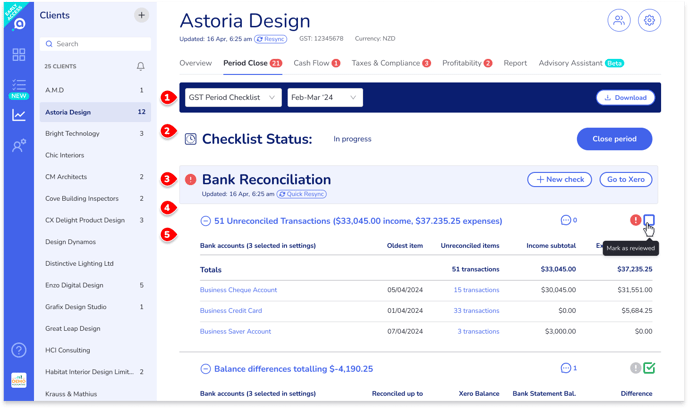 Start by selecting the GST period you want to check the data for. Data are synced with Xero daily overnight. The last update date and time is indicated on this period selection menu bar.
Manage period checklist status. Use the "Start period", "Close period", and "Reopen period" buttons to track progress for a period's checklist.
Data categories: The data checks are grouped by category, with links to the most relevant Xero screens to facilitate further investigations and data clean-up. The red and green status reflects the status of data checks in the category.
Please note:

Once on the Xero screen, you may need to change the date range and Account settings there to see the corresponding data for the period you selected on the Aider checklist.
There may be additional transactions and activities added during the day after the last sync update. So some figures shown may not match 100%. Option to resync coming soon.

Data check summaries: Anomalies and incomplete data clean-up tasks are flagged up with red status warning and summarised to help you determine what action is required. Click on the summary to see more details.
Data check details: The details vary depending on the nature of the check. Some include transaction level details. Any details in blue text are links to the most relevant Xero screens to facilitate further investigation and data clean-up.
Client settings and management
When you add clients, it's a good idea to check their client configurations are set up properly as soon as possible. This ensures the insights are using the right data for calculations.
To check a client's client configuration, click their 'Client Settings' ( in the top right corner) > 'Client Configuration'.

Key things to check:

Xero bank account(s): By default the Advisory Platform will use data from all bank accounts associated with the client's Xero account. If the client has any loan or personal accounts associated with their Xero account, this may affect the accuracy of cash flow and GST calculations. Unselect any bank account that you wouldn't normally include when calculating the business' cash flow, GST, and profitability metrics.
Income tax rate: By default, the Advisory Platform uses 28% to calculate the company income tax forecast for New Zealand and non-Australian clients. For Australian clients, the default rate used is 25%. Change this if a different tax rate applies to this client.
Australia agent BAS lodgment program: This is for clients in Australia and affects the due dates shown for GST/BAS. By default, this is set to "Tax filing extension applies". Change this if this client does not qualify for GST/BAS filing extensions.

In the client's 'Client Settings' screen you can also:

Categorise the client using Custom Tags. This will enable you to filter your client list on the Dashboard to suit your needs - e.g. get a list of clients who does their own reconciliation, or clients on Tier 1 service package. Use this to improve focus and efficiency, or to compare clients within a custom group you define via Custom Tags.
Check the client's industry and GST information (GST number, tax basis, and tax period) in 'Client Information'. These are based on information in Xero and used for various calculations.
Add the client's phone number under 'Client Information'.
Remove the client from your practice's Aider account – e.g. if you no longer work with this client. This will remove the client for all Advisors in your practice. If you've invited this client to use the Aider Mobile App (optional add-on), this will also remove their Mobile App subscription. They will have to pay for their own subscription.
If you simply want to remove access to this client for yourself or another advisor – e.g. the client has been reassigned to a different advisor in your practice – then use the manage permission settings instead. Simply click 'Account Settings' (bottom icon on the left blue bar > 'Manage permissions'.

To find out which advisor(s) in your practice have access to a particular client, click on 'Client Contacts' ( in the top right corner) > 'Advisors'. If an advisor is missing, either click on the 'Invite new advisors' link if they don't have access to your practice's Advisory Platform yet, or 'Manage existing advisor permissions' if they're already logged into the Advisory Platform but just need access to this client.